Woof!

Today will be a busy day.
because today has so many events:
Jose Rizal's (a Pinoy hero) 150th bday,
Fathers day, Holy Trinity, and
Save Your Drool day.
Keeper will not celebrate any of it
because Keeper will be busy renovating
and moving our stuff around Heaven.
Oh-oh.
I sense ginormous stress coming.
My furs are falling like mad!
So I am doing all my challenges
all at the same time!
Woof!
SCAVENGER HUNT SUNDAY:
F
ROM A
F
LOWERS
P
OINT OF
V
IEW
This is one of the orchids blooming last year, Ashley.
It has no smell, no music, no nothing.
And this is how Ms Orchid see me:
Orchid: "This is the frisky golden clumsy dog with a funny smell, blah music, and all woofs yet he is one of my favorites, but only next to Troy the lizard!"
N
ATURAL
F
RAME
I am naturally framed by the flower and a fly.
It could have been woofy purrfect except that I was blurred
and Keeper wanted to shoot flowers only
which she featured in her blog.
L
ETTERS
I play tug-of-war with Keeper over mails. She always thought it is hers but I heard the mailman say for Sweepy and I run like mad and tear it up and -
"oh what an idiot! You tear up your letter, Sweepy! How are we supposed to know who sent it and why?!"
So if you sent me a letter recently I am sorry if I can not woofy respond.
Please resend ;-)
B
LISS
Now this is my favorite treat.
The smell of it alone is bliss.
My Popsy likes it too except that TheOtherKeeper Luchie kept reminding him that salty chow are bad for senior dogs. And when you tell Popsy that, he goes ballistic:
Not exactly a good thing to say especially on Fat her day.
Woof, I mean Father's day.
And TOKLuchie said that includes me
because I am also a senior dog!
E
MOTION
And when I heard Luchie say I can not have bacon treats anymore I became emotionally woofy.
Don't tell me you're gonna serve me blah foods from now on?
When are dogs considered senior anyway? I am only 9 so that means you multiply my age by 7 to get my human age . . . then mine would be woofy 63. I am 63 in hooman age. Omiwoofygosh, I am
senior
. Darn.
And for saying I am senior like her
Luchie deserves this:
Yep, splashed her color out clean, Amy!
For
COLOR SPLASH SUNDAY
.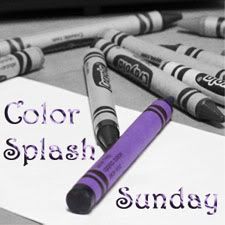 And here are my drooly musings for Lisa
and
THE CREATIVE EXCHANGE
:

As a senior dog
I will be destined
to spend my drooly days in here . . .
. . . rocking the days
waiting for my gloomy end!
. . . and waiting for the one I love
and who loves me drooly back!
And that is bliss.
I drooly wish you all have yours.
And . . .
Belated Happy Birthday, Bella!
Happy Father's day, Popsy!
May we spend more of our drooly senior days
and nights
together!