And I'm front . . .
again
.
What else is new?
Well, Amy got married without me.
(people don't understand that dogs make good ring bearers and cake eaters, especially the three tiered ones or more, plus I catch bridal bouquets better than any girls in long silly gowns!)
So here's to my favorite color slasher
Amy
: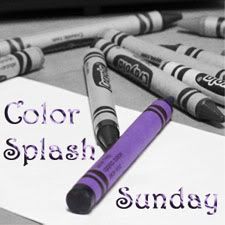 May your drooly days be spent
bearing another person's name

and having a battalion of babies

and possibly cooking a feast

and patting a special dog
in your new love nest.
There.
That should do it.
That ought to make a good wedding wishes
together with the team of fireflies I sent
to cast magical lights as Amy takes her vow.
Have a happy, hippy, purple week, Amy!
And now I roam Heaven
to scavenge and hunt for
Ashley
's hooha:
O
N THE
D
OTTED
L
INE
and
H
ANGING BY A
T
HREAD
are
Geometry of lines, shapes and whatnot
of the hooman's undies hanging out to dry.
I am not allowed to show it lest I get suspended for life.
If that happens, I will get hanged on the dotted line!
Aroooooooo!
But at least I found 3 items in 1, Ashley!
I ain't smart for nothing.
But if you want me in it, Ashley, this is the best:
G
EOMETRY
There! All the lines, shapes and snoring that you can have for the week!
B
RUSH
S
TROKES
This is my massager brush. It massages my everything. From my furry chin to my bushy tail. Purrfect when Keeper is done brushing and wiping my furs after eating and before sleeping. People should have one.
C
OLLAGE
These are the postcards we received by mail for our postcard swap with Kat. I designed our own cards and Keeper mailed twice because Kat did not receive the first set. Now I hope the kids in Estonia received the cards I made for their shirt design. Its on the mail, kiddo! Bark it out loud when you get it, k?
This week is all about celebrations.
My calendar was fully booked.
Yesterday was Ninoy Aquino's death anniversary.
Everybody was in yellow.
Well, my teeth are yellow. Ha!
My furs are golden yellow. Hahoot!
The last time I looked (3 years ago!) I was the only animal featured in the iamninoy project that featured blogs about heroic adventures inspired by Ninoy. Now I think I should do an iamnoynoy project. After all, Ninoy's son Noynoy is now our president. Well, if you must know, PNoy, I shelved all exploits to watch over my Popsy when he got a hot spot. . .
. . . and I didn't get a kiss when it dried and was healed. But that's ok. After all, my father is already 77 in hooman's age and I should be thankful he is up and about running and playing with me:
Life gets meaningful when you have your loved ones with you.
And that's for you,
Lisa
!

Hug your furries, people,
but most of all,
hug your drooly self.
Have another drooly fun and safe week!