Ahhhh, the last day of the short month.
The short month where everything
and everybody and everydoggy
seems to be celebrating
something or the other.
First, we have EDSA people power 25th anniv.
PNoy's bday
(that's our nickname for our drooly President!)
Valentine
(that's the love saint who was killed
and which the hoomans equate with love)
February is also Keeper's late Papa's birthday,
Keeper's late grandmother Lola Fina's death anniv,
(Keeper celebrates life and death in Heaven!)
her late Uncle Sario's bday
(BarkNotey: UncleSario gave Sumo as a gift to Keeper
and since I am a product of Sumo+Pica valentimes,
that makes me a gift from UncleS too
and possibly, a gift from God, no less!)
. . . and for the living . . .
February is also
Keeper's brother Jojo's birthday,
one of my hooman gurlfriends Stef's bday,
. . . and lastly,
Keeper's bday.
Today, she turns 665.
This is her nth lifetime
and she said she will stop counting next year.
Anydawg,
moving on . . .
I am doing Ashley's SHS.
And here are my drooly shots:
Capture The Sky

I look up the sky and all I see are drooly clouds.
Now when sky looks down at us
all it sees are drooly dogs as well:
Now that is called Capturing The Sumo
That's my bonus shot especially for Ashley.
EveryDay
And here's The Sumo. My black father. My playmate, my friend, my enemy, my ear cleaner, my sleeping-on-the-job watcher, my favorite dinner date, my snoring speaker, my-oh-my. My drooly day is not complete without him. But only next to Keeper. NEXT!

Furry
My furry face.
My furry paw.
My furry tum-tum.
My furry elbow.
My furry tail.
My furry self.
Now that's enough fury of furries to last you for a week!
Life
My life is like a wonderful still life.
Until a black thing comes along
and destroy my composition!
"Hey, can't somedoggy take a shot without anydoggy getting into the frame!"
Woof!
I'm hyperventiwoofing again!
And I just did Doga all mornin'!
What a waste!
Now where was I?
Blurred
Now that's Keeper sleeping.
I really should not disturb her
but I can't sleep unless I know
if that sleeping something is giving a treat
so I can sleep as soundly
and less blurry. . .
Now here is my slash em dead
er,
what's that again, Amy?
This is called Color Splash Sweepy On A Sunday
for
Amy's CSS
.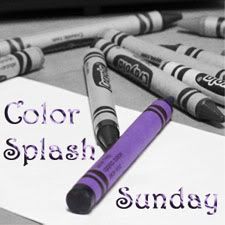 And for Allie's Happy Monday
Allie wanted 'children'
and I can't possibly include all my kiddy fans
but here is one of them.
His name is Leo:

He is deaf. He comes to Heaven for cookies after looking for me and sticking out his tongue at me. Keeper gives him hot soup with biscuits. Sometimes milk with biscuits. And when Keeper gets lazy, she takes Leo to the convenience store called "sari-sari store" (it means "all sorts of stuff") that is located every 3 houses down our street called Rainbow and asks Leo to choose what he wants to eat. And Leo always choose the junk foods that are guaranteed to knock all his teeth off and possibly give him diabetes for life. We really should adopt Leo except that I am not sure I want to share my house with him. Kids can be cranky.

And here is my
Whatever shot.
.
. . when the world spins lazily

and my droopy eyelids closes
in sync with the falling sun at dusk

and the waning moon at night time
i surrender to the call of the wild . . .

That is my purrfect musing and shot
for Lisa at
TheCreativeExchange
.
That was taken with my heart, my tail, and my fangs.
It is heart-rending, heart-stopping, heart-me-for-life shot.
In short, I got drooly heartfelt drowsy from all the challenges.
Heartfully yours, Lisa!





Now I'm ready for somebody's bday blowout.
Now where is that Keeper?!!