I woke up this week

with blasting fireworks
and whaddya know
it is New Year . . .
again
.
As you know (or maybe not)
we celebrate several new years
in our quirky house called Heaven.
So everything is
new
again.
So to make it new
the peeps have to light fireworks
to scare the lights off me!
That's it!
Tomorrow, I am going to see the Mayor
and demand that they BAN fireworks
or I'm going to lose all my golden furs
in blasting fright!
I am hyperventi
woof
ing.
I woofy know. Pant! Pant!
And the Chinese New Year does not allow it.
I am so woofy not into this.
And to start the new year
which is the Year of the Rabbit
anything cuddly, sneaky, white
soft, sensitive, and small are
in
.
Obviously, apart from 'sneaky' I-am-so Out.
Just wait until they get to My Dog Year.
Okay,
here
now
are
my
drooly
woofy
photo
takes . . .

Ashley always have 5 challenges
and I'm not backing at any time.
So here goes my woofy shots:




W

ATER

Duh.


My-Water-Bag.
Isn't that cool, Ashley?
Other dogs have water tumblers
well I have a drooly Water Bag.
Perfect to bring during walks.
Perfect for drinking . . .

purrfect for cleaning my paws . . .
purrfect for hiding . . .

Keeper, if somebody will look for me
"I am out swimming in my water bag!"
And I'm

(slurp)

drooly done.
Next!




Q

UOTE

I love this sign so much I put this exactly on the entry way.
And I bark so that visitors will notice it and ME.




W

INDOW

That is the window into Luchie's room and heart.
Luchie is TheOtherKeeper.
You know she is around when the house gets super noisy.
Keeper + TheOtherKeeper = BEDLAM!
But when I needed anything,
I just stand outside this window and whine to death.
And it works all the time.




A

CTIVITY

. . . and that would be my favorite after-meal activity:
My Popsy Sumo cleaning my right ear!
And after doing the right
then its the left ear . . .

My Dad is the best Ear Cleaner!
You should try it someday.




P

AGE 25 of a

M

AGAZINE

I don't have a magazine but I have books.
Right now because it is Chinese new year
I'm off to read my guru guide book on feng shui:

This one does not have page numbers
(well, it is Wrong Shui, after all!)
so I opted to read and re-read my fave read.
It has all the wise words for wise woofies like moi.


And that ends my takes for Ashley
and her weekly ScavengerHunt on Sunday.
Maybe next time we can hunt doggy treats . . .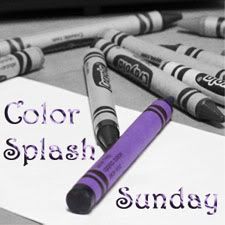 . . . and here is my shot
for

A

my's

C

olor

S

plash

S

unday:

Amy, that is Keeper Lui's dried

whatever

given by TheOtherKeeper.
I do not know what it is and it does smell funny.
It is also not edible so it is not worth my while.
I'm woofy done with it!


And because it is Monday already
here are my happy shots
for Allie's Happy Monday . . .

and Allie wants Black and White.
Okay, I am not Black
but I have a black towel
and when I put it on . . .
VOILA!
A-Black-Dog!
Woof!
But if you want ME in monochrome:
VOILA!
But if you want the real Black and Black thingy:
here is my loverly Dad
Woof, Allie, his stomach is all white!
Both MACROS Purrfect for Lisa's
Macro Monday
and Dragonstar's
Black and White Weekend
!
And here are some things I read about Black thingy:
The humans do not adopt or buy
animals or pets with BLACK furs because:
-> they are drooly hard to find in dim areas
-> they don't show woofy well in photos
-> they look woofy scary
-> they look drooly older
-> the black furs might get into furniture
-> somebody cooked up a crazy idea that black pets are evil
Now wait until my father Sumo reads that
and you're gonna get black-and-blue-and white-and red!
Now where was I?
I think I am woofy done.
So I'm off to snooze.
Again.
Have a woofy week and new year, folks!
And for barking-out-loud,
take the time to hug some furry
and some body this week. . .
Arf.