That's what the hoomans call it.
Well, my life is full of passion anyway.
So mine is really a passion year
and a drooly passion doggy life!
Now moving on . . .
Ashley's passion-filled challenges for:
Time
This is my blue clock, Ashley.
It does not work ever.
But it is also perfect for SmilingSally's Blue Monday: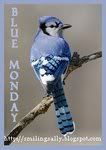 I have drooly problems with linking, Sally.
Something to do with my big paw.
Somebody ought to make keyboards animal-friendly.
And I can't use speaker driven keypads
simply because I don't human speak.
Oh, what a blue, blue time!
Now, Ashley wants
Poem/Poetry
What else but my poem-like paws, Ashley!
And it goes like:
"Oh, what big paws you have!
The better to . . ."
Wait, that ain't child-friendly
and I might get arrested for violence.
And Keeper said it is dusty and dirty white.
So scrap the woofy poetry.
Next!
Outside
I always wondered why everybody wants to go outside?
I don't go outside of Heaven.
The air and streets look dirty and smelly.
The noise and pollution makes you dumb
and gives you bad coughs for ages.
Well, this week somebody gave free anti-rabies shots
again
and hundreds of dogs down RainbowAve came traipsing outside
and gave Popsy Sumo endless exercise
running to and fro Heaven barking at everydoggy.
I texted my online vet,
DrGeoff
.
I know I had my shots last November
and wondered if I can have another one.
"That's over-vaccination, Sweepy!
Wait for November"
k doc. drooly tnx.
Next!
ZOOM
What else, Ashley, but my handsome face.
You can't have a week go by
without my drooly face
plastered in your memory.
Load my huge zits and cavities too
and you're guaranteed a nightmare.
Isolation

My Me time.
The purrfect time to watch the goings on
and wonder what the fuss is about.
Warning to Animals: Hoomans can give us stress
Avoid them as often as you can.
Except during meal times.
Now, when I shoot this same scene "with a heart" . . .
. . . it makes you break all heart, livers, and arms.
My drooly doggy wisdom for Lisa this week:
Life is a drooly wave of ups and downs.
When this happens, you take a drooly nap.

Now if I shoot it in monochrome . . .
it gets perfect for Dragonstar's
Black and White Weekend!
But if I shoot it in sepia . . .
it looks purrfect for Mary's
Sepia Scenes
:
But if I want to combine color and monochrome . . .
that will be purrfect for Amy's
Color Splash Sunday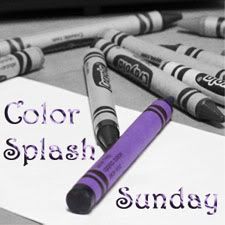 . . . and just so you know
last week my CSS got this:
And now for
Allie
's:
Allie's challenge: Sports
My loverly squeak ball.
It gives irritating noise that is not good
especially during Holy Monday.
Passion week is about hush time.
You tiptoe in quirky fashion
and no squeakies for a week.
And for my Blog Action Day:
I barked at TheOtherKeeper to inform other doggies
who have not taken their anti-rabies shots last Nov
to move their butts and
FurBarkinOutLoud
have yer free shots NOW
na
!
And as for Dawgy, our drooly adopted neighbor,
who seemed abandoned all week,
don't worry you will always be part of our family.
I ordered two meals sent to her daily.
And to end . . .
here is another MACRO shot
purrfect for
Lisa
and her chaos:
Do not forget to smile at the world.
They smile and laugh at you anyway!
In drooly remembrance of my big brother Bogart:
January 15, 2001 - April 14, 2010